What is the difference between Cap1(regular full lace wig) and Cap2(glueless full lace wig)?
Cap1 is regular full lace wig, you have to use glue to keep the wig falling down;
Cap2 is glueless full lace wig, which have adjustable straps and combs sewed,no need to glue
The most natural undetectable option is going to be the full lace wig. It must be glued down around the full perimter of your head. If you want to wear high ponytails, if you want the most natural hairline this is the only option! You can however add adjustable straps to a full lace wig so you dont have to glue it down in the back but only in the front. Good for clients who order shorter lengths and do not plan to wear it up in a ponytail. Glueless lace wigs give you the freedom of parting and styling your wig as desired but the hair line is not as natural as a full lace but still very suitable and worn by many. It eliminates the need for any glue or tape while still providing versatility in styling. If you're allergic to glue or dont like using it, the glueless full lace wig is a better option and it still looks very natural.
What are Bleached Knots and what is silk top?
When a dark hair is tied to the base of a lace wig with a knot, you can see a dark dot on the skin, especially when the base is lace. Lace cannot hide the knot in the same way a monofilament base does. Bleached knots usually are only done at the front of the lace wig and it helps create the illusion that your hair is growing out of your head.
The silk top consists of a layer of lace. and silk fabric on the top front of the cap. When the hair is knotted, the knots are below the silk concealed between the layers, the hair is then injected through the silk material making the knots 100% invisible giving the illusion that the hair is actually growing out of your scalp. There is no other ventilation technique that creates a more flawless appearance than hidden knots on a silk top, you don't need to bleach the knots, you don't need to worry about any other techniques to make the knots invisible or less visible.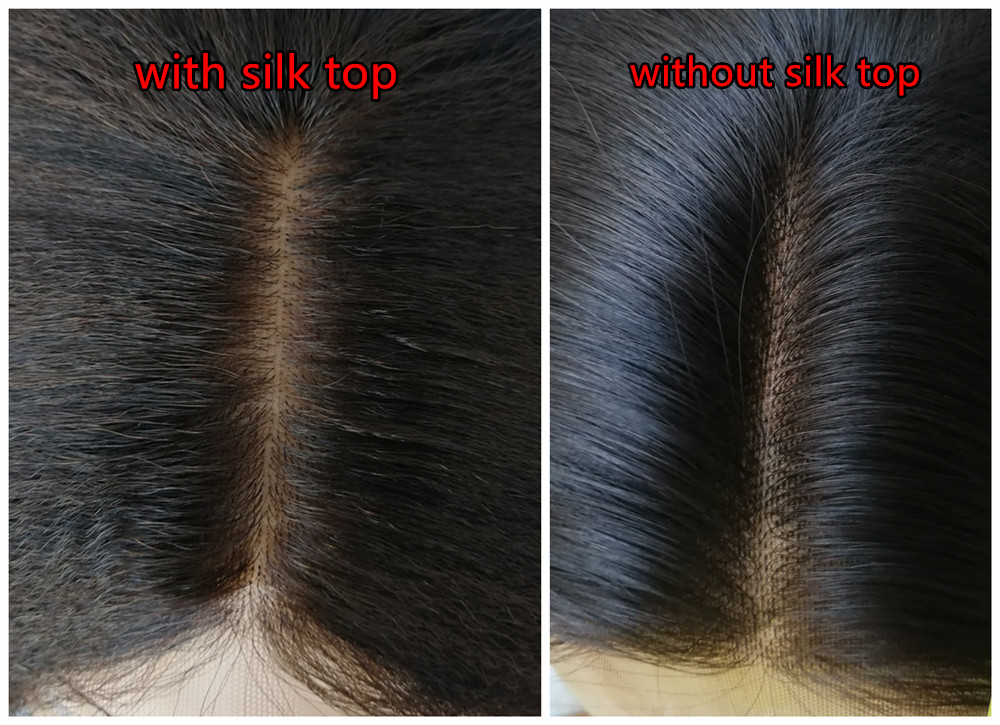 Pre Install Information
Co-washing your virgin hair before installing is a very important step!When Co-washing, only use conditioner to wash the hair.After Co-washing allow the hair to hang and fully air dry.
WhiteLabelHair wefts are durable and re-inforced to avoid excessive shedding, if you desire an extra level of protection,you may seal your wefts for added protection to your investment.
Daily Care/Maintenance
You need to remove the hair when you go to the sea or go to swimming in the pool.
We do not suggest adding too much product to your hair as this may lead to buildup and tangling.
You may use a very lightweight leave in conditioner and/or hair mist to protect against heat damage and frizziness. Use a product that is NOT Alcohol based and does not contain Sulfate.
As your hair experiences product buildup, please fix this problem by washing the hair with a Shampoo.
What's the difference between human hair and synthetic hair?
Human hair wigs made of human hair that are collected directly from Indian, Chinese, Indonesian and Caucasian hair donor. It has the most natural look which can be cut, styled, permed,or colored to suit your personal taste. And requires more care, they have to be shampooed, dried, styled and conditioned, just like your natural hair. Like your hair, they can lose their style if they get wet and frizz on humid days. Indian hair is currently the best hair on the market for wigs and weaves. It comes in different textures. These include straight, curly and wavy. The Indian hair is recommended for everyone.
Synthetic wigs are easier to care for and lower priced. The monofilament fiber "hair" used to make synthetic wigs has "memory" which means it maintains its wave or curl, texture and volume, requiring minimal upkeep. Synthetic wigs, however, are not designed to accept a permanent wave or color change and can be permanently damaged by the use of curling irons, blow dryers or hot rollers.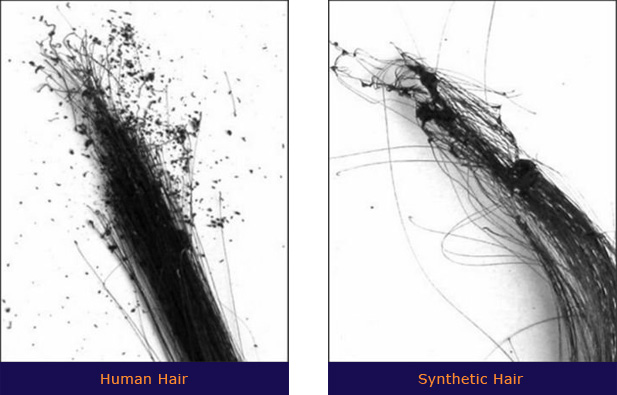 What is a Widow's Peak and Natural Hairline?
A Widow's peak is M shaped hairline or Pointed Hairline. For this, your front hairlines make the shape of M or come down in point above forehead.
A natural hairline is a straight hairline. For this, the hair is growing out of scalp straightly above forehead.
Stock wigs come with natural invisible hairline.

How are lace wigs applied?
Glueless wigs are made to give the illusion that the hair is naturally growing from the scalp just like the lace wig without the need for glue or adhesive. Each 100% human hair strand is tied onto the lace cap to give a natural, realistic look and feel. The perimeter of the unit is constructed with a stretch type of material to keep the unit in place. Our glueless wigs come with an adjustable strap in back for a flexible fit. Glueless wigs can be custom ordered for that perfect fit or purchased in stock as a one size fits all option.
What is baby hair?
Baby hair is the short hairs around the perimeter of your head. It can be selected as an option when customizing a lace wig. Typically our stock units come with baby hair. Baby hair can be used to cover up flaws with application.
Can anyone wear a Lace Wig?
Absolutely! People chose to wear lace wigs for different reasons. Some customers wear lace wigs to give their own hair a break, while others choose lace wigs for versatility. Women and children that have medical hair loss such as, alopecia or undergoing chemotherapy treatment also choose to wear lace wigs. They are natural looking, comfortable and light weight. Women of all ethnicities are choosing lace wigs as an alternate hair solution.
Will the adhesives damage my hairline?
Excellent question....The adhesives will not damage your hairline when applied and removed correctly. Damage of the hairline can be caused by pulling on the lace without properly releasing the bond.
Can I dye/color my lace wig?
Absolutely, however if you decide to color your unit, we suggest you contact a licensed cosmetologist to do the coloring for you. If you plan on doing multiple chemical processes we recommend you consider virgin unprocessed hair for your unit.
WASHING AND CONDITIONING GUIDE
1. Using a wig brush, gently brush and remove all tangles and snags.
2. Hold the hair/wig under the faucet, with water flowing from root to tips, in the direction of the hair, until saturated
3. Using SULFATE FREE SHAMPOO, apply the shampoo to the roots of the wig/hair.

4. In a downwards motion, gently massage shampoo, from root to the tips.
5. Rinse well, from root to tip, under the faucet in clean lukewarm water.
6. Using a SULFATE FREE CONDITIONER, apply at the root, and gentle massage downwards, towards the tips

7. With conditioner in the hair, starting from tips and working towards the roots, gently remove any tangles.
8. Let conditioner sit for 5 minutes or longer.

9. Once again, rinse well from root to tip, under the faucet with lukewarm water.
10. Place hair on towel. Fold the towel over so the hair is covered and gently squeeze the hair between the two layers of towels.

11. DO NOT vigorously rub the hair on the towel, it will disturb the cuticle of the hair, causing tangling. Squeeze and pat dry only.

12. Gently work out any tangles with the wig brush.

13. Gently lay weft hair flat, on a towel to dry, or hang wefts up on a "clip-styled" clothes hanger.

14. Place wigs on a mannequin head/wig stand to dry. This will help to maintain the proper shape of your wig.